Advanced Auto Service & Tire Centers
http://www.advancedauto.com/
Advanced Auto Service & Tire Centers
Address:
1947 N Higley Rd
Mesa, AZ 85205
480-985-5400

adv1946@advancedauto.com

Open today from 7:30am to 5:00pm
Get Driving Directions
Store Manager: MARK CUMMINGS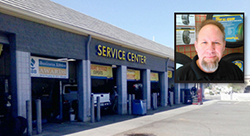 Hours:
Mon-Fri: 7:00am - 6:00pm
Sat: 7:30am - 5:00pm
Sun: Closed
Mark Cummings
Advanced Auto Service & Tire Centers - Mesa/Red Mountain
Mark is an excellent example of an Advanced Auto Associate that understands our company mission to make the care and satisfaction of our customers his highest priority. The customers that come into our Mesa location are treated like family. They'll always receive a warm greeting, a complete explanation of services needed and recommended, as well as the confidence knowing that services were completed properly.
Mark began built his customer service skills at several companies to include Sea Ray Boats, Home Depot, and Goodyear corporate stores. He's been with Advanced since 2007. He's learned from the best that great customer service starts with listening to concerns and then acting on that information to correct those problems or issues.
Mark remembered his first vehicle, 1972 Ford Courier, not for its great mileage or reliability. He remembers it because he was able to refit the front bench seats with seats from a Lincoln Continental. From that point on, to say that the little Courier rode in style would be a complete understatement. He was definitely riding low and slow… primarily from the added weight of the bench seats.
Mark has taken his customer experience with him to his management position here at our Mesa/Red Mountain location. If you're in need of some honest, quality service give Mark a call at 480-985-5400. Whatever issues you may be experiencing; he's got the background and the knowledge to help get it solved.
Store Phone: 480-985-5400